AURA LIFETIME WARRANTY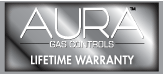 AURA offers an exclusive Lifetime Warranty on all its products to be free from functional defects in materials and workmanship. The warranty as seen below, is one of the best in the industry.
---
Warranties are extended only with respect to the purchase of PRODUCTS directly from AURA or its authorized DISTRIBUTOR as new goods and are extended to the first Buyer thereof other than for the purpose of resale.
For the life of the PRODUCTS to the first Buyer the PRODUCTS are warranted to be free from functional defects in materials and workmanship and to conform to the description of this equipment contained in its manual and any accompanying labels and/or inserts, provided that the same is properly operated under conditions of normal use and that regular periodic maintenance and service is performed or replacements made in accordance with the instructions provided. All electrical components in PRODUCTS are warranted to be free from functional defects in material and workmanship for only twelve (12) months from the date of purchase.
AURA's sole and exclusive obligation and DISTRIBUTOR's sole and exclusive remedy under the above warranties is limited to repairing or replacing, free of charge, at AURA's option, the PRODUCTS, which are reported to DISTRIBUTOR from whom purchased, and which if so advised, is returned with a statement of the observed deficiency, to AURA or its designated service facility during normal business hours, transportation charges prepaid, and which, upon examination, is found not to comply with the above warranties. Return trip transportation charges for the equipment shall be paid by DISTRIBUTOR.
There are no express or implied warranties which extend beyond the warranties hereinabove set forth. AURA makes no warranty of merchantability or fitness for a particular purpose with respect to the goods or parts thereof.
This Warranty does not cover any damage to PRODUCTS that result from improper installation, accident, abuse, misuse, natural disaster, insufficient or excessive electrical supply, abnormal mechanical or environmental conditions, debris or particles in the gas or liquid source of supply, corrosion, or any unauthorized disassembly, repair, or modification.
The foregoing warranties shall not apply if the PRODUCTS have been 1) repaired other than by AURA or its designated service facility, 2) not in accordance with written instructions provided by AURA, or 3) altered by anyone other than AURA.
AURA SHALL NOT BE OTHERWISE LIABLE FOR ANY DAMAGES INCLUDING BUT NOT LIMITED TO INCIDENTAL DAMAGES, CONSEQUENTIAL DAMAGES, OR SPECIAL DAMAGES, WHETHER SUCH DAMAGES RESULT FROM NEGLIGENCE, BREACH OF WARRANTY OR OTHERWISE.